Apple Watch Kiteboarding Apps compared – Freeride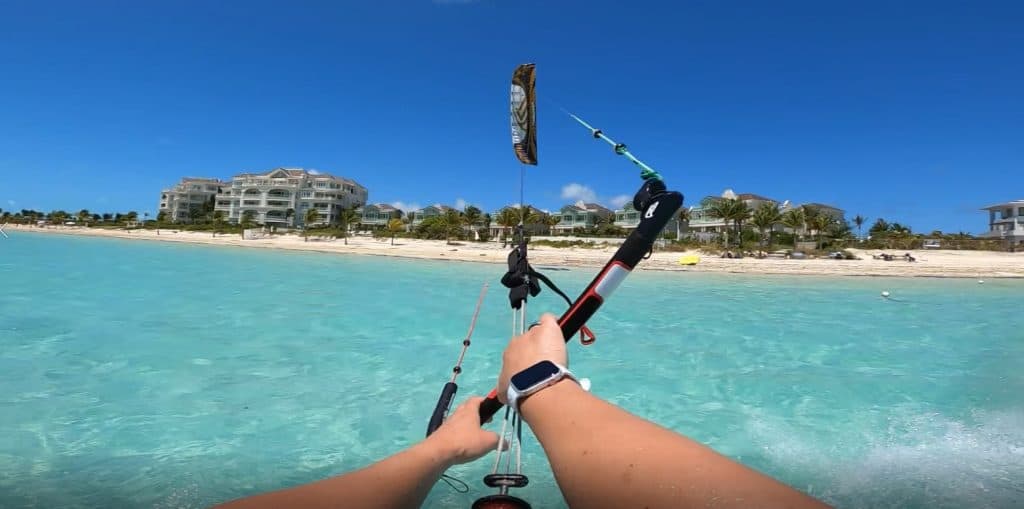 I recently bought an Apple watch just so I could track my freeride kiteboarding sessions. I was curious to know what distance I traveled, what my average and top speed were, gps log maps, and how many calories I burned. I also thought it would be nice to start accumulating a log of all my sessions to get an idea how many hours I spend on the water per year and how many successful sessions I have per trip.
The following apps do more or less the same thing. What I was interested in was which one had the cleanest UI, and tracked the metrics I was interested in the most and also was the easiest to do social share with to Instagram/Facebook.
Through my research these seemed to be the most popular ones used out there. I found very little reviews and no comparative reviews so this is my attempt to remedy that. The apps I tried out and compared in order of most favorite to least are as follows.
Waterspeed
Zef
Strava
Sessions
Woo (sorta)
*Note: Woo is designed primarily for Big Air/Freestyle which is not the purpose of this post to explore but I wanted to mention a few things about it.
1. Waterspeed
This was hands down my most favorite app to use and had the cleanest UI/interface. This includes on the iPhone as well as on the watch itself. I ended up paying for the subscription on this one. One of the things I liked is that you could differentiate between a Kiteboarding session and a Kitefoiling session. No other app could do this which was nice. The other thing is that the social share image it creates uses a satellite map and gives all the cool relevant stats from the session. This to me was one of the main features I enjoyed the most.
The diary is also quite nice as it shows cumulative time spent on water and cumulative distance traveled across multiple sessions. This way I can see how much I got on a given trip or year. Waterspeed also successfully logs sessions into the Apple Fitness app adding to the daily move and exercise goals.
Live Watch Pic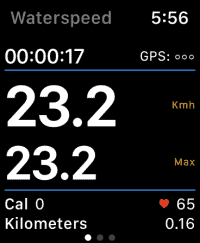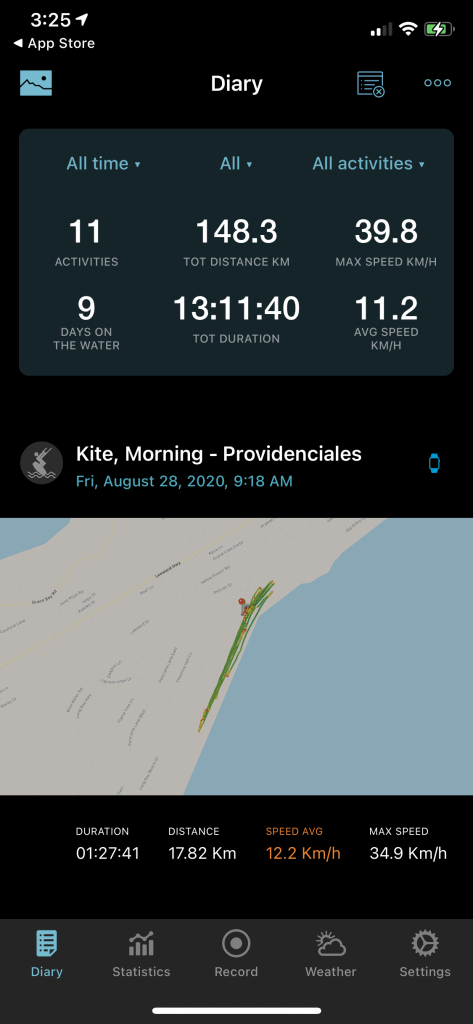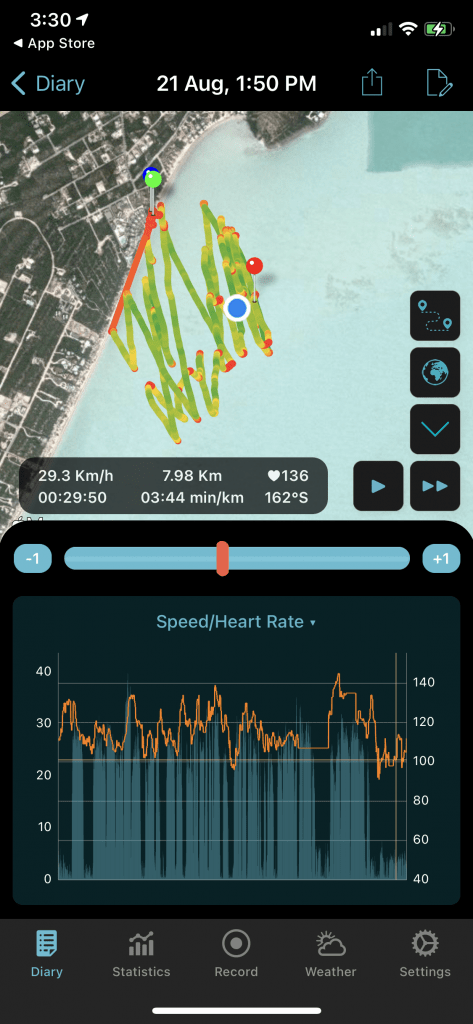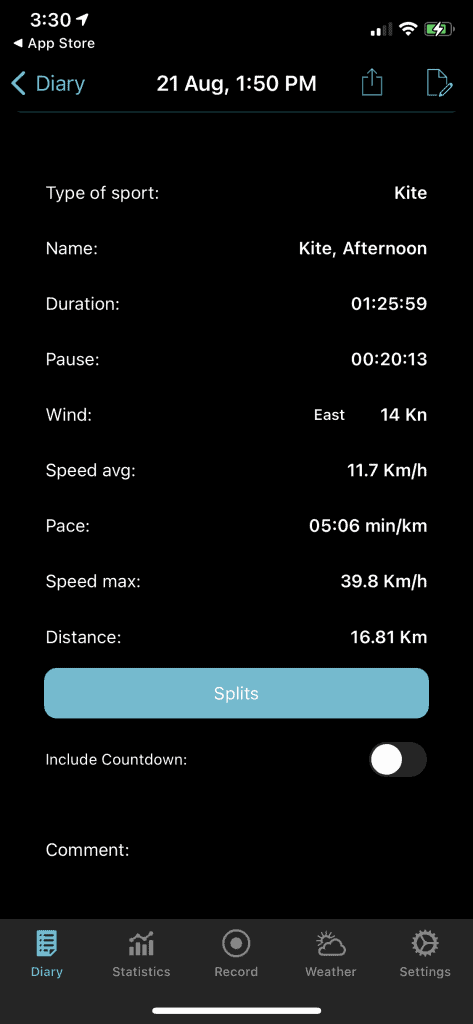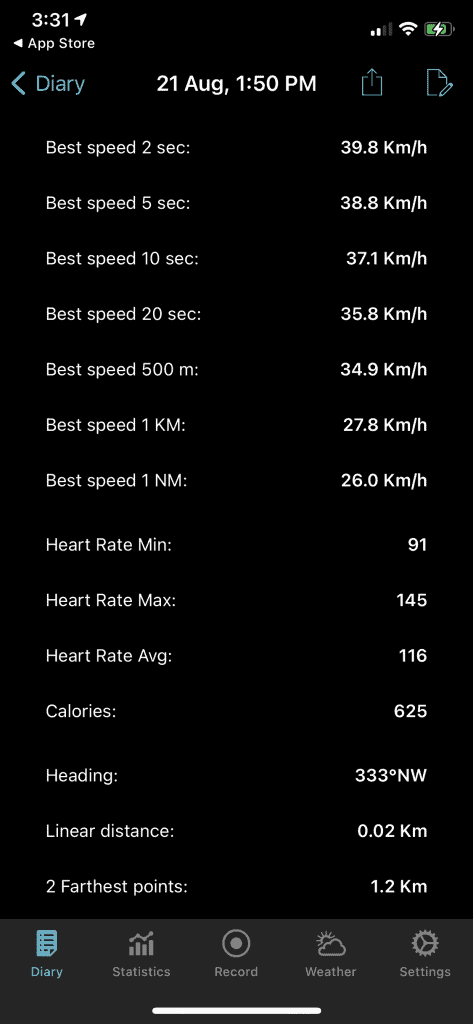 Social Media share image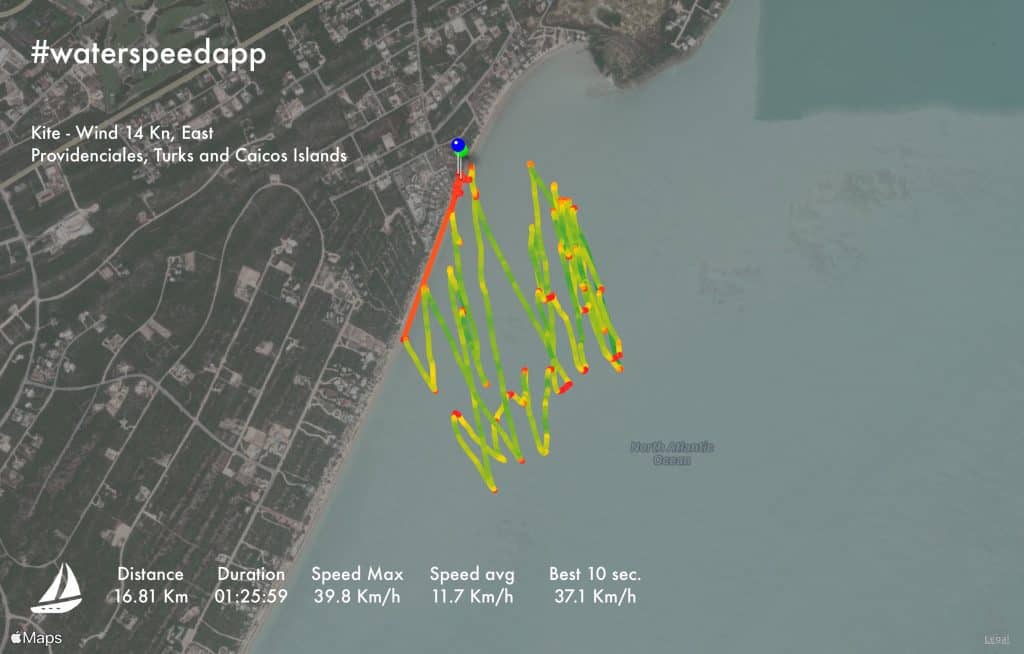 3. Strava
Strava overall is a nice app with clean design. The problem is it's geared primarily for biking, running and swimming. When you use the watch you have to say your are doing a "biking" session and then after you have uploaded your session you can go and change the activity type to kiteboarding. Perhaps in the future they will make it a little more robust.
Of all the apps this was the only one where you can look at your sessions in a browser. I really like this feature and that it stores your sessions online in the cloud. It's also social, having a social news feed where you can see what all your friends are up too online. Zef and Sessions both have friend/social aspects but they are only built into the app, and I don't find them convenient to use.
The biggest issue I had with it, was the social sharing is basically a link that forces you to the website if done through facebook. If done through isntagram it creates a photo like seen below. There was no real nice satellite heat map with interesting data like Waterspeed. You could see a satellite heat map in the program, but the data overlay didn't exist for sharing.
I really like how the chart graphics are done for heart rate and speed. This is my go to app for logging my biking sessions.
Live Watch Pic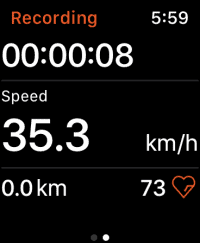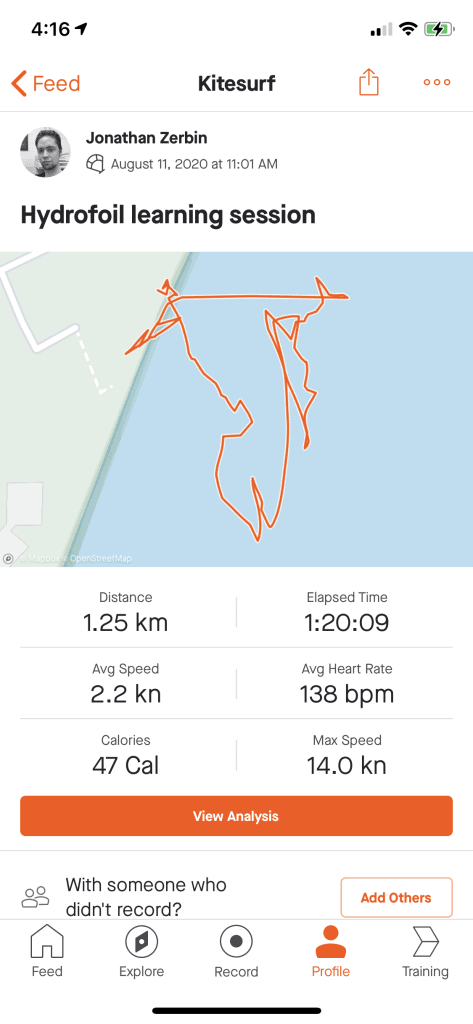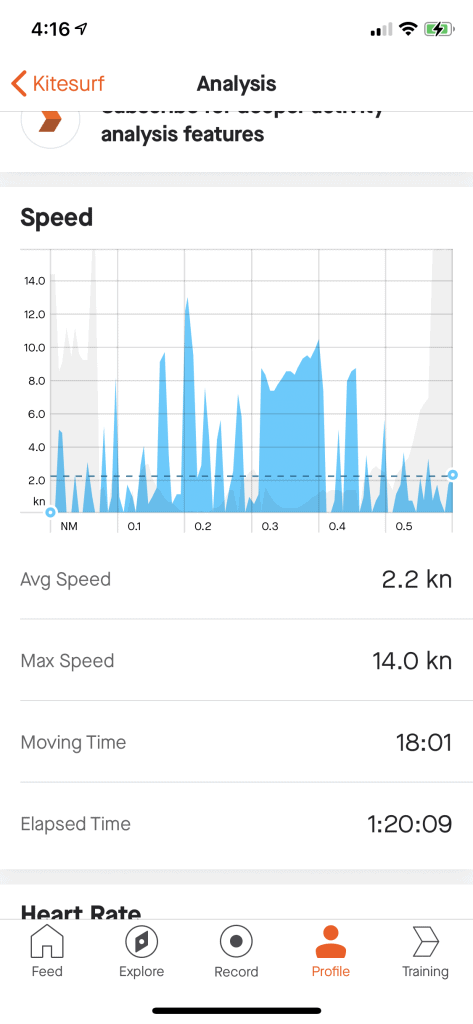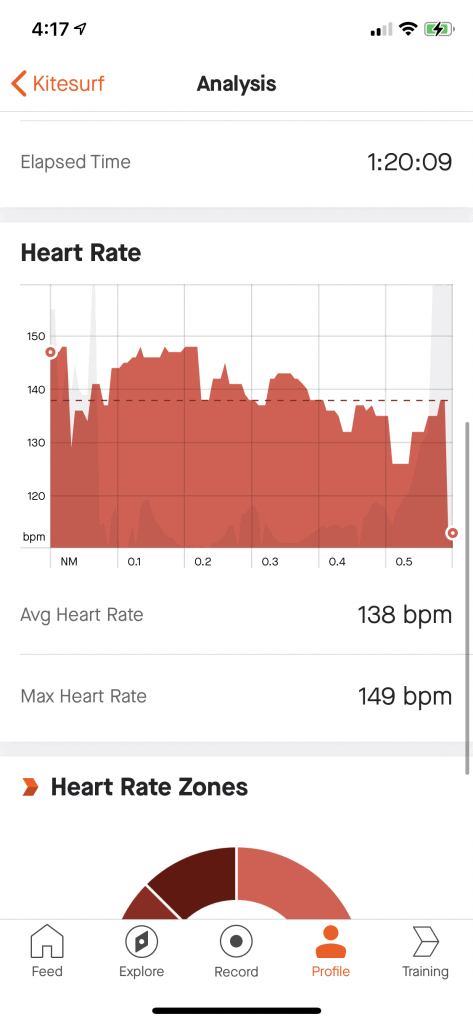 4. Sessions
Sessions is an app that was designed for Surfers. It has been adapted to kiteboarding, however I found the app really lacking in terms of metrics for freeride purposes. I didn't test it for jumping as I was using the woo for that. I am just assuming the woo is better and more accurate for tracking jumps than an apple watch although i haven't seen a good comparison. The other thing I didn't like about the app was it takes a really long time to load the various areas.
In both Waterspeed and Zef you can review/relive your session moment by moment via the gps heatmap to see what your speed was at a certain point in your run. This is something Sessions simply doesn't do and strava does it only online in the browser, not the app.
In order to do a social share it forces you to take a picture with your camera and then it overlays the info. Below I just snapped a photo of the heatmap on my monitor.
Live Watch Pic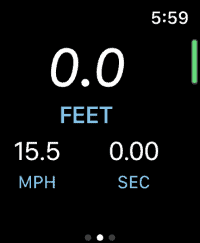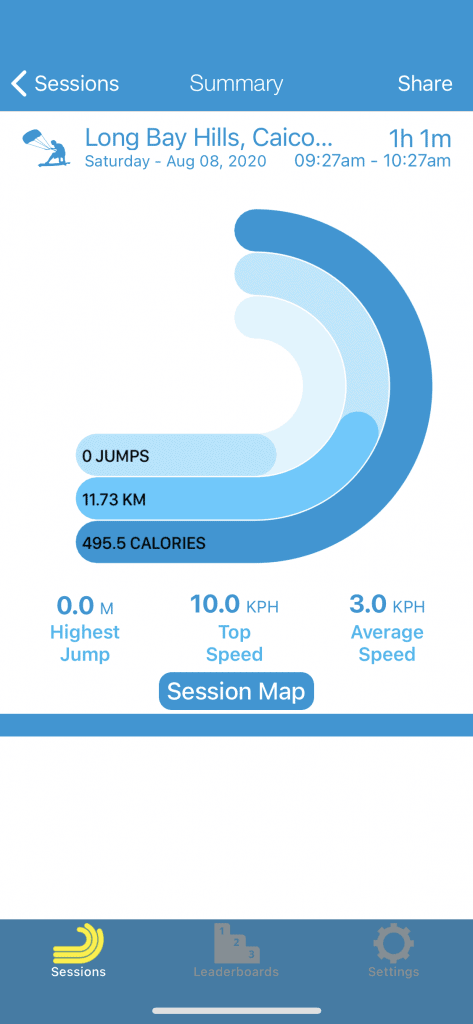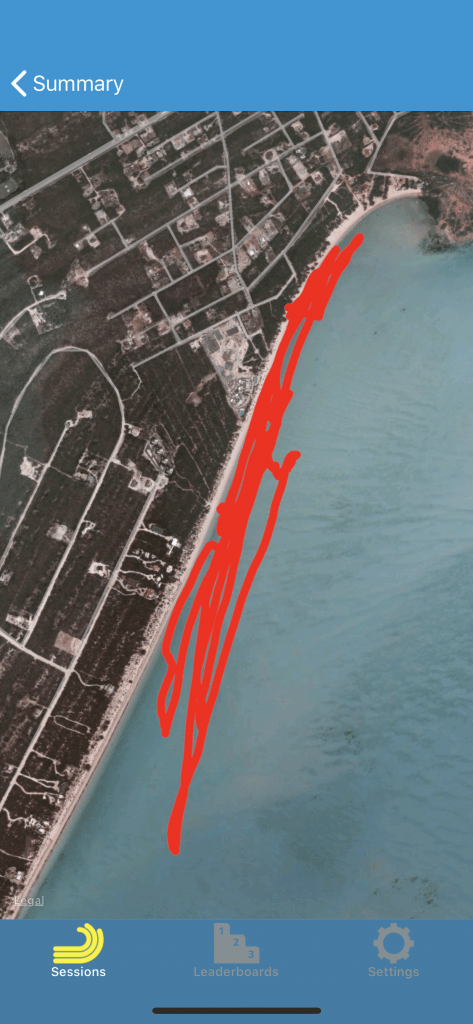 5. Woo
The most important thing to know about Woo (which I I couldn't figure out until purchasing a subscription….grrrr) is you cannot use the Woo device to track freeride sessions. You have to use the Woo app on your phone! That's right you need to lug your phone out on the water with you, which for me defeats the purpose of buying an apple watch to track freeride sessions. It's odd that Woo has an apple watch app which could easily track speed through gps data, calories, heart rate, etc…. just like all the above apps do, but that functionality has simply just not been programmed into the Woo apple watch app yet. It is strictly a recent jump screen. Hopefully they add it in the future because then it would be the all-in-one solution that does it all. Big Air and Freeride. Until then if your like me and want to track metrics for both, you need to use two different devices and apps.
Woo is hands down the most popular kiteboarding app for big air jumps and freestyle. I did get myself a Woo 3 just for that purpose. The cool thing is it is also social, so you can see what riders are out posting sessions at your favorite spots. I quite like the app, but even here I feel Strava does a slightly better job of the feature in that you can browse your sessions on a pc/laptop. Woo is confined to your phone.
One thing that annoyed me about the Woo apple watch app, is that when activated it immediately puts the water lock on, and the only thing you can do is end the sync if you want to switch over to other apps while out on the water. This causes a major app conflict which was annoying in that if you wanted to use Waterspeed to track your speed and Woo to track your jumps it was almost impossible to do so. Also I found it was not particularly good at maintaining sync either. If all you care about is seeing the height of your last jump, it's fine, but if you wanna track speed as well it's going to be problematic. I ended up just uninstalling Woo from my watch and reviewing my jumps after a session on my phone.
For those curious about the Woo jump data collected here are some screenshots.